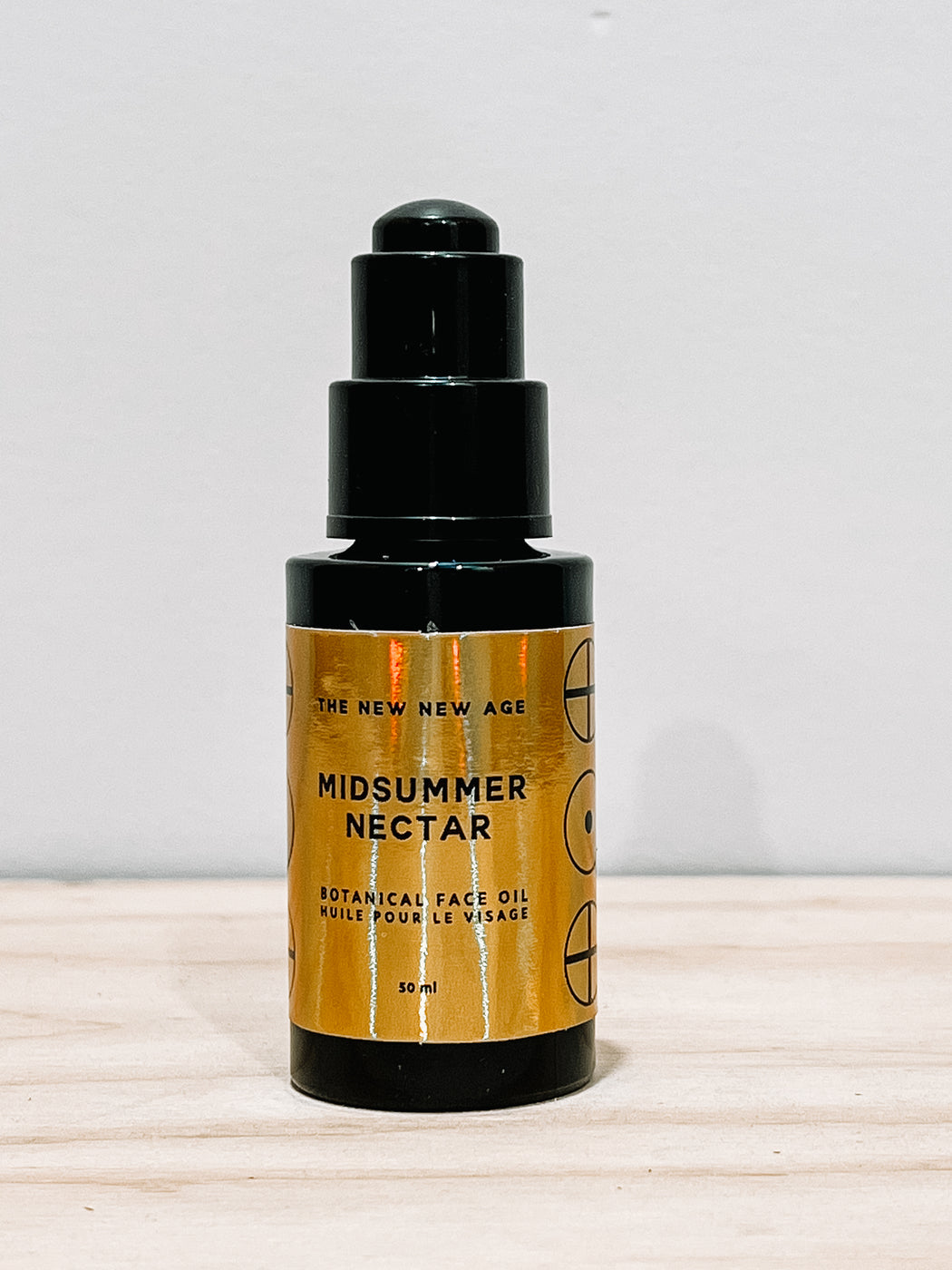 The New New Age- Midsummer Nectar Botanical Face Oil
The New New Age- Midsummer Nectar Botanical Face Oil
At the height of Midsummer, The New New Ages collects flowers from wild meadows and sacred gardens at their farm in Southwestern Ontario, Canada. 
Imbued with solar energy, we then gently infused this enchanting bouquet into organic jojoba, coconut, and evening primrose oils to create a rejuvenating and nutritive botanical facial oil that captures the radiant essence and regenerative impulse of the midsummer landscape in bloom. 
Fast absorbing and non-comedogenic, Midsummer Nectar allows users the divine experience of absorbing the vibrant energy of a sacred landscape in full bloom directly through the skin.
Let the same flowers that nourished thousands of pollinators also nourish your skin and soul.
All herbal ingredients were hand-harvested from their farm and exemplify the terroir of our landscape where biodiversity and health exist in perpetual symbiosis.
To use, warm a few drops of oil in your palms, then gently apply to your face and neck. Our Midsummer Nectar can be used as a botanical face moisturizer, after cleansing and before your preferred face cream. 
The delicate and subtle aroma of our botanical face oil will soothe the senses, without overpowering or irritating sensitive skin. 
Permaculturally grown and wildcrafted ingredients include:
Rose bee balm, rose thyme, rose, lavender, yarrow, calendula, yellow bedstraw, clary sage, anise hyssop, elder flower & holy basil.
No essential oils
No parfumes
No additives
50 ml